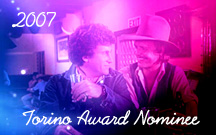 Kirsty Welsh: Nominated in the categories of: Outstanding Hurt/ Comfort Writer, Outstanding New Fanfic Writer and Outstanding Author Partnership with Elisa Valero
A dark tale of Starsky's past as it comes back to haunt him, putting Hutch's life in danger and Starsky's sanity in jeopardy.
Starsky and Hutch need a holiday, but Starsky's sanity is still in doubt and Hutch suffers.
Starsky goes undercover to trap a drug baron, with Hutch as back-up, with devastating results.
The guys go undercover with devastating results. Apologies to Monty Python's parrot sketch!
When things go wrong in Starsky's private life, Hutch advocates a vacation.
The past catches up with Hutch in the most painful way imaginable. Can Starsky find him before he looses his mind and his life?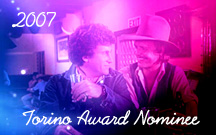 Story nominated in the category of: Outstanding Horror Story

When Starsky is kidnapped and Hutch finds him, its just the start of their explosive countdown.

The boys go to South America to rescue an old friend. Set during'Sweet Revenge' recovery.

A snitch, a hired gun and two babysitters. A dangerous assignment turns even worse with devastating consequences. As both guys are hurt, how will they get out of this tight situation?

When Hutch is taken sick, Starsky takes on an easy assignment which quickly turns sour. Can a mysterious woman save both men?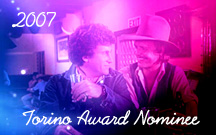 Story nominated in the categories of: Outstanding

Original Female Character - Laurel- & Outstanding Post-Gunther Story

After Gunther's devastating attack, how will Starsky recover and how will they both rebuild their shattered lives?

Hospitals are never going to be the same for Starsky.

'Set some time in the future - Its time for the guys to let others into their lives.

Starsky and Hutch go to England to the trial of a drug baron. But as usual, things don't go smoothly.

As Starsky and Hucth celebrate New Year, Hutch looks back on the Gunther attack.

Another version of 'A Coffin for Starsky'. I just wanted the guys to have good luck for once.

An original female character who worked with Starsky during Hutch's hospitalisation finds she soon needs the duo's help herself, leading to danger for the two detectives.

Set after Hutchinson for Murder One. Someone still needs the diamond and the guys know where it is. But will they tell?

WARNING FOR ADULT THEMES.

Story written from an idea by Brook. Thank you

After a crazy meeting on the web with Starskysgal, Shawne 'til Dawn and Brook, it would appear we are all at the mercy of her mad musings, with devastating consequences for our guys.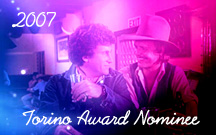 Story nominated in the category of: Outstanding Humor Story
NEW!
Written as a sequel to Cntrl;alt;delete and after a fun filled weekend with my pals.
Hutch experiences help from another higher place when an undercover assignment goes wrong. Can he still find a way to save Starsky and Traff from the terrorist group?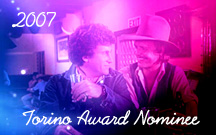 Story nominated in the category of: Outstanding Horror Story
Sequel to Another Chance.As Hutch and Traff fight to bring Starsky back, Starsky battles his insanity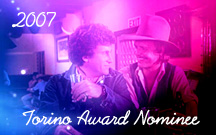 Story nominated in the categories of: Outstanding Original Male Character (Traff) & Outstanding Starsky Angst Story
The Plague was a killer. Hutch wouldn't have just got up a walked away from the hospital room. The missing scenes.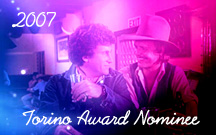 Story nominated in the category of: Outstanding Missing Scene/Epilogue
How did they meet? And what could happen to create such a strong bond between two men? The Academy never before saw two men like Starsky and Hutch!
No, not the wrong season! Hutch is sick very sick! A story of friendship and courage in the face of adversity. Its been a labour of love to write. I hope you enjoy reading as much as I loved writing. ONE FOR THE HURT HUTCHIES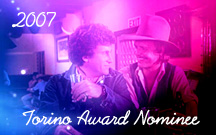 Story nominated in the category of: Outstanding Hutch H/C Story
Originally written in response to a challenge. But, as our Curly haired friend may say, its just a bit of shmaltz!
Not published elsewhere. this story is in response to a Dark Side Challenge.
Just how far can their frienship be pushed when they're both tired and hurting?
Sometimes everyone just needs to take th easy way out.
Nicky's back and he's got religion. But can anyone trust Nicky? Starsky and Hutch investigate and find that the Jewish worm can turn. The group learned a lot about the art of persuasion from the holocaust! Written for Angie
There were many unanswered questions in Bloodbath, so I thought I'd humbly try to answer them. How did the guys get involved with Marcus? Why did he target Starsky? What really happened? Caution for some adult content.
Co-Written with Elisa Valero
Post SR story. A look at the future of Starsky and Hutch after Starsky recovers from Gunther's assassination attempt.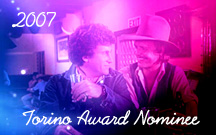 Story nominated in the category of: Outstanding Post-Gunther Story
A beautiful woman, a murder, an undercover assignment and a rescue mission gone terribly wrong. Can Traff keep Starsky safe? And can Hutch save both of them?
A story spanning 14 years, from the time Starsky left New York. What happens in youth can have lasting consequences and sometimes people just don't forget. Second half of the story set right after Lady Blue.

Most times, things that aren't wrapped are the best of all. Into every sad moment, a curly headed brunet will call. Probabay best if you've read Night and Day beforehand but its not essential. Happy Christmas everyone!
What's more scary being alone in the pitch black, or being in the pitch black with a madman who is determined to give you your medicine? And how far will friendship go to mend broken minds?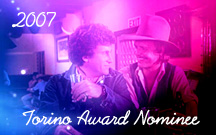 Story Nominated In The categories of: Outstanding Post-Gunther Story & Outstanding Horror Story
He Aint Heavy, He's My Brother.
Snippet. Missing scene from a Coffin For Starsky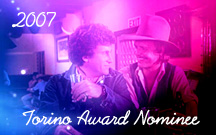 Story Nominated In The category of: Outstanding Missing Scene/Epilogue
Sometimes things aren't always as they seem. And sometimes a friend is prepared to give up everything for life.
Sequel to The Devil and Mr Hutchinson - because you all wanted one!
The Legends Trilogy Part 1. David
Part one of the trilogy - explaining Starsky's time in the Army, meeting Traff and his time as a POW in 'Nam.
The Legends Trilogy Part 2 Ken
Hutch too had a traumatic event make him decide to alter the course of his life.
The Legends Trilogy. Part 3: Partners
Together at last and its explosive right from the start.
Cops are passionate about convictions and will go to any lengths to get one. Even though the system may let them down. But what happens when cop becomes victim? As the duo investigate a serial rapist, one of them soon comes to realise first hand what other traumas a rape victim must endure.
No, not a re-hash of the favorite eppy, I promise. Pasts have a habit of catching up with us painfully, especially when we have something we don't want others to know about. Sometimes even the best hidden skeletons come back to hant us
A Coffin for Hutch -Part 2. Secrets-
Can Hutch keep his secret from Starsky? and if not, what would the consequences be?
Hutch is in Cabrillo - and he isn't undercover! A strong mind will do almost anything to survive painful memories, but that strangth can slo make recovery tough.
Sometimes a job can ask to much of a cop. Sometimes frienships are tested to the limit when undercover jobs go wrong. Sometimes those jobs become a matter of life and death, especially when one cop is set against another. WARNING -ADULT THEMES
Lycanthropy is a myth, right? I mean, do I start to scratch my ear with my foot and fall off the sofa as a try to lick my.....' Starsky asked, disguising the fear that was gripping him. He felt good - strong, fast... fearless.
Drugs and prisons go hand in hand. It's sometimes easier to get drugs inside than out on the streets. So what's a cop to do to catch the bad guys? Undercover as prisoner and guard the duo soon find out.
Revenge is a dish best served cold. For Starsky and Hutch revenge is the cause of all their troubles, especially when they don't see it coming. NOT A DEATH FIC
A sequel to A Prayer in the Dark. Starsky's "angel" comes back, but this time it's the angel that needs the help and that means more pain for the guys. This time Hutch's medical knowledge might just save them.
Traff's back, but this time it's him needing the help. And when the three guys get together it always leads to trouble!
The Academy should be a place of relaxed learning, but when Hutch, Colby and Starsky get together, fur and feathers always fly.
What Goes Up Must Come Down Eventually
Just a little light relief and our first attaempt at a longer hopefully humourous story. Starsky, Hutch and the bright lights of LA. Mix in an A list starlet - what could go wrong? Except maybe Hutch's revenge on Starsky!.
Starsky is in Bay City Jail awaiting sentence for attempted murder - of Hutch. What happened at the childrens' home they were investigating? Can their friendship survive even this? WARNING. CONTAINS IMPLICATIONS OF MALE RAPE
Sequel to Moonshadow. There's a werewolf hunter on the loose and a scientist hell bent on conducting experiments. The world isn't safe for the leader of the Bay Pack. Hutch pretty soon comes to understand exactly what Starsky is going through
NEW!
Undercover is a dangerous place to be, especially when you're all alone. Hutch finds out the hard way. This story has something for both the Hutchies and the Starsky's ladies out there. I hope you enjoy - it's been a while!